Awlgrip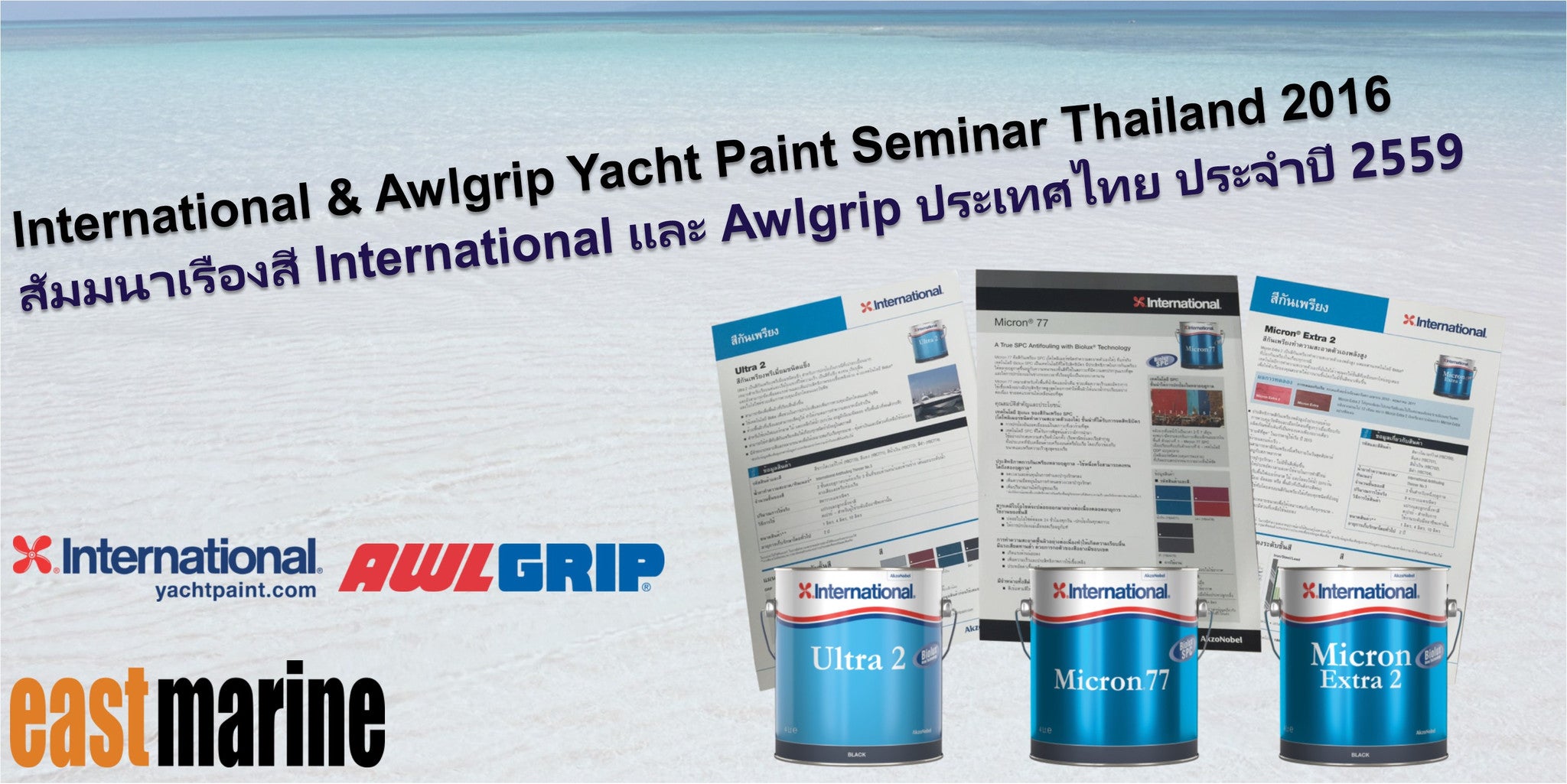 International & Awlgrip Yacht Paint Seminar Thailand 2016 0
International & Awlgrip Yacht Paint Seminar Thailand 2016


สัมมนาเรื่องสี International และ Awlgrip ประเทศไทย ประจำปี 2559

East Marine Co Ltd Thailand and International Yacht Paints Singapore cordially invites you to attend Thailand's first International and Awlgrip Yacht paint seminar 2016.
We all know the importance of quality and the challenges a yacht painter has.
Knowledge of the correct quality products to use in building, repair and maintenance is sometimes misleading.
Guest speaker Mr Alan Koh, International Yacht Paints Singapore, will introduce new antifouling ranges available and specifically formulated for Yachts in the Asia Pacific region.
บริษัท อีส มารีน จำกัด และ อินเตอร์เนชั่นนัล ยอร์ชเพ๊นท์ สิงคโปร์ ขอเรียนเชิญท่านผู้มีเกียรติทุกท่านเข้าร่วมฟังสัมมนาเกี่ยวกับการใช้สี International และ Awlgrip ซึ่งจัดเป็นครั้งแรกในปี 2559 นี้ โดยมีจุดประสงค์เพื่อให้ข้อมูลเรื่องการใช้สีที่ถูกต้อง แก้ไขข้อมูลที่เข้าใจผิดพลาด และได้ผลงานออกมาอย่างเต็มประสิทธิภาพ เพราะเรารู้ว่าการทำสีเป็นเรื่องที่ท้าทายของช่างทำสีเรือมากเพียงใ
มิสเตอร์ อลัน โก จาก อินเตอร์เนชั่นนัล ยอร์ชเพ๊นท์ สิงคโปร์ จะแนะนำผลิตภัณฑ์สีกันเพรียง International ใหม่กับทุกท่าน และสูตรเฉพาะสำหรับการทำสีเรือในภูมิภาคเอเชียแปซิฟิกนี้

Alan Koh (International Yacht Paint Singapore)

This seminar will create Awareness and Advice on products in the International and Awlgrip Yacht paint range available in Asia.

This is an important seminar you should not miss with limited seats of 70 in each province.

Register your Free attendance today!
การสัมมนานี้ยังรวมถึงข้อควรระวังและคำแนะนำสำหรับสี International และ Awlgrip อื่นๆที่วางจำหน่ายในเอเชียด้วย

การสัมมนานี้คุณไม่ควรพลาดเป็นอย่างยิ่ง

เราจำกัดเพียง 70 ทีนั่งต่อรอบเท่านั้น

ลงทะเบียนวันนี้โดยไม่เสียค่าใช้จ่าย

Phuket
4th October,  4.00pm - 6.30pm
Boat Lagoon Resort Boat Point
(old Simpson Marine office)
ภูเก็ต
4 ตุลาคม 2559 เวลา 16.00 – 18.30 น.
ณ โบ๊ทพ๊อยท์ โบ๊ทลากูนรีสอร์ท
(ออฟฟิศเก่าของซิมป์สันมารีน)
Pattaya
6th October,  4.00pm - 6.30pm
Ravindra Beach Resort & Spa
Ravindra 2 Meeting Room
พัทยา จ.ชลบุรี
6 ตุลาคม 2559 เวลา 16.00 – 18.30 น.
ณ ห้องประชุมรวินทรา 2
โรงแรมวรินทรา บีช รีสอร์ท แอนด์ สปา
AGENDA 
Seminar
4.00pm - 5.00pm
Beverages & Canapes
5.00pm - 6.30pm
RSVP
Friday
16th September 2016
Ian Lok
+66 (0)81 082 3113
manager@eastmarineasia.com
กำหนดการ
16.00 – 17.00 น. สัมมนา
17.00 – 18.30 น. อาหารและเครื่องดื่ม
รายเอียดการจอง
ติดต่อ เอียน ล็อก ได้ที่ 081 082 3113 หรือ manager@eastmarineasia.com (ภาษาไทยและอังกฤษ) ภายในวันศุกร์ที่ 16 ตุลาคม 2559 นี้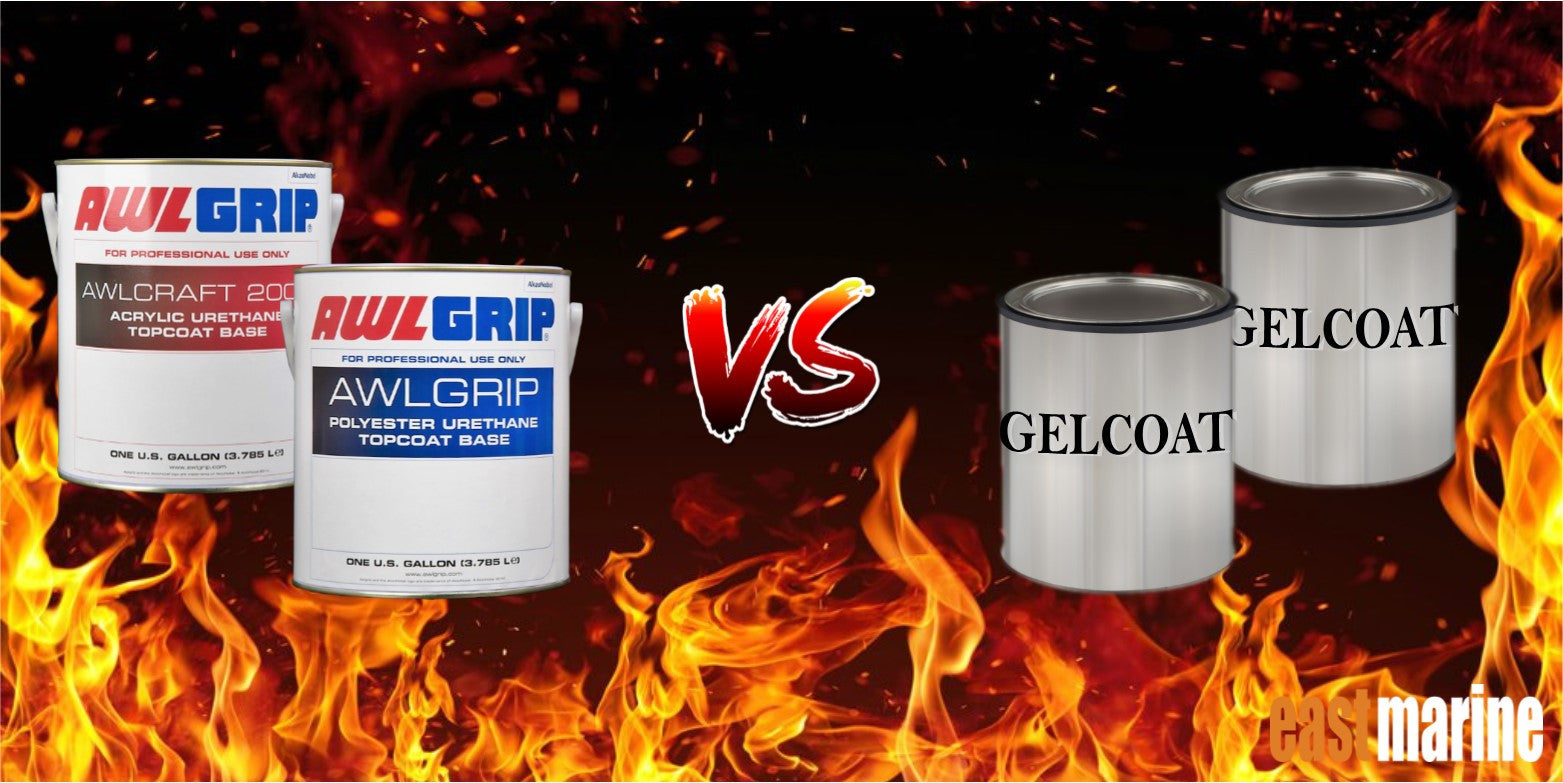 Topcoat vs Gelcoat 0
Topcoat
Famous paint manufacturers like Awlgrip, manufactures two different type of resin bases for urethane topcoats.  Awlgrip, which is a polyester urethane, and Awlcraft 2000 is an acrylic urethane.  Polyester molecules are much smaller than acrylic molecules.
A given volume of polyester resin contains many more molecules than the same volume of acrylic resin.  Thus, the polyester has more reaction sights than the acrylic.  This means that Awlgrip topcoat is the choice where harness is important (for example, resiting fender wear, deck areas, and etc) and maximum resistance to chemicals is necessary.  When both are fully cross-linked, polyester form a tighter, tougher film.  A denser cross-linking provides a harder, more abrasion resistant film with better chemical resistance.
Having a different cross-link structure than Awlgrip topcoat, Awlcraft 2000 cures faster which helps application in certain harsh environments.  The faster cure rate makes it the preferred choice if metallic finish is required.
High cross-link density also yields a rigid film.  In today's marketplace there is a need for both polyester and acrylic urethane technology.  Both will resist staining and provide long-lasting gloss.
Application characteristics, chemical and stain resistance, repair-ability and cure times all need to be considered when choosing a urethane products.
Benefits of Topcoat (Awlgrip & Awlcraft 2000)
 

Excellent chemical and abrasion resistance;

Provides a durable finish with excellent gloss hold out and DOI (distinction of image);

Awlgrip can be applied by spray or brush / roll;

Outstanding colour retention;

Great resistance to UV degradation (for example: yellowing) and salt erosion;

Custom colour available through Awlmix system;

Superior flow-out;

Provides a smooth and dense film for easy maintenance;

Will prolong the aesthetic appearance of a fibreglass boat;

Compatible with a range of Awlgrip primer systems.
 Limitations of Topcoat 
Use above the waterline only (not for continuously immersed substrates);

Topcoats recommended for professional application only;

Repairs is usually carried out by professional applicators only;

The extreme gloss can highlight any imperfections in the surface underneath.
  Link: Awlgrip & Awlcraft 2000
Gelcoat
Gelcoat is made of a polyester resin although different to a paint in its chemical composition.  It's a thick material used during fibreglass boat construction to achieve a durable, cosmetic finish.
The gelcoat is applied as a thick coating in the mold.  Once lamination is complete, the hull is removed from the mold.
In order to remove the mold, release agents are used on the mold surface prior to application of the gelcoat.  Mold release agents vary but often consist of wax.  A product like gelcoat builds thick layer and with a high pigment load, the coating is slightly porous.
This porosity will become worse over time as the resin layer wears away and exposing the remaining material to UV degradation, resulting in a chalk-like finish as oxidisation occurs, and discolouring.
Coloured gelcoats are prone to degrade faster than white gelcoats due to the natural light reflectance in white pigments like titanium dioxide.
Benefits of Gelcoat
Less gloss (minor scratches don't show as easily);

The softer polyester resin allows for easy buffing and polishing;

Offers a smooth surface for paint;

Gelcoat repair kits are widely available, at a reasonable price.
Limitation of Gelcoat
High maintenance (requires polishing with abrasive materials and waxing to prolong a glossy surface), this will be more at tropical countries due to higher temperature;

Years of high maintenance reduce the thickness of the resinous layer at the surface, increasing the amount of maintenance needed to maintain gloss;

Colour choice limited (including colour choice of repair kits);

Gelcoat repairs can be labour intensive as the surface must be sanded and polished again;

Porous surface is difficult to clean, especially around exhaust pipes, waterline and non-skid decks without using chemicals.  This includes water spots;

Softer resin system means more fragile, so may spider and chip more easily.